What Are the 4 Main Types of Data Migration?
2023-10-25 07:50:29 by Intersoftkk (India)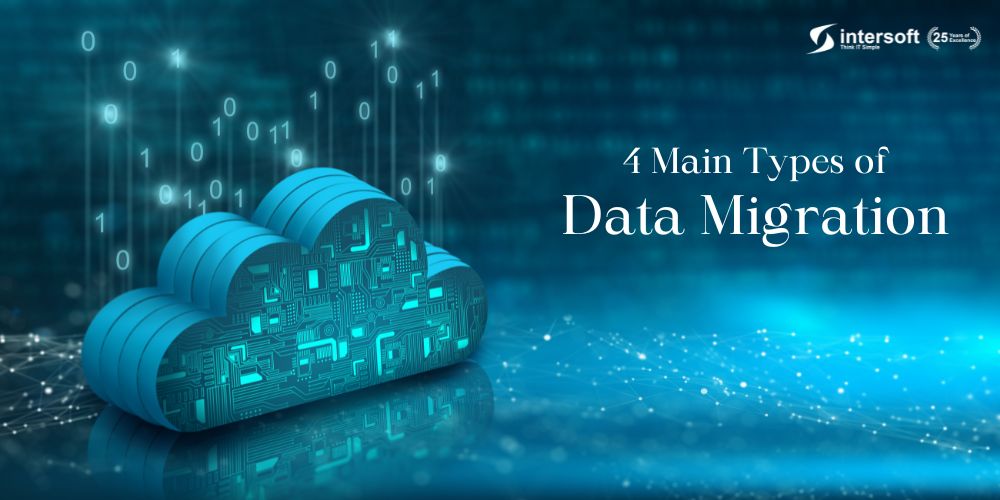 In today's fast-paced digital landscape, businesses are constantly evolving to keep up with emerging technologies and changing customer demands. This evolution often necessitates the seamless transfer of data from one system or environment to another—a process known as data migration.
It's a critical operation that can make or break a company's ability to adapt and thrive. Understanding the various types of data migration is essential for businesses aiming to make this transition as smooth and efficient as possible. In this comprehensive guide, we'll delve into the four main categories of data migration, each designed to serve specific purposes and address distinct challenges.
From on-premises to cloud migrations, application upgrades to platform shifts, each type plays a vital role in ensuring that data remains accessible, secure, and valuable throughout the process. So, whether you're a seasoned IT professional or a business owner embarking on a digital transformation journey, this exploration will equip you with the knowledge needed to navigate the complexities of data migration effectively. Let's embark on this informative journey together.
What is Data Migration?
Data migration is the process of transferring or moving data from one location, format, system, or environment to another. This operation is crucial in various scenarios, such as when a company upgrades its software, changes its storage infrastructure, adopts a new cloud platform, or merges with another organization.
The goal of data migration is to ensure that information is transferred accurately, securely, and efficiently, with minimal disruption to ongoing operations. This can involve moving data between different types of databases, file systems, cloud platforms, or even physical storage devices.
Data migration encompasses a range of activities, including data extraction from the source system, data transformation or conversion to fit the target environment, data loading into the new system, and validation to ensure the integrity and accuracy of the transferred data.
Successful data migration is critical for businesses to maintain access to valuable information and to ensure that operations can continue seamlessly in the new environment. It requires careful planning, thorough testing, and often involves the use of specialized tools and expertise in data management and system integration.
Different Types of Data Migration:
Understanding the various types of data migration is essential for businesses and individuals looking to optimize their data management strategies. From storage migration to application and system migrations, each type comes with its own set of challenges and considerations. In this exploration, we'll delve into the different facets of data migration, providing insights and guidance to help navigate this vital aspect of modern information management.
Storage Migration:
Storage migration is like moving your stuff from one room to another. In a business, it means shifting digital information from one storage place, like a computer disk, to another, like a cloud space on the internet. When companies get new and better technology, it's a perfect time to do this move. Imagine getting a brand-new, super-fast computer – you'd want to put all your important files there, right?
The reason is simple: the new technology can make things work better, cost less, and be easier to use. It's like upgrading from an old bicycle to a shiny new car!
Thankfully, there are many helpful tools available to make this process smooth. These tools act like expert movers, ensuring your data gets to its new home safely and without any hiccups. So, storage migration is like giving your data a comfy new home when you get shiny new technology. It's all about making things faster, cheaper, and easier for businesses to do their work.
Database Migration:
Databases are like the beating heart of the technology we rely on in our daily lives. That's why it's quite common for businesses to switch to different database systems, update their software, or shift their databases to the cloud.
However, before making such a move, companies need to follow a careful plan to make sure everything goes smoothly:
Evaluate the Database Size: First, they need to figure out how big the database is. This is like measuring how much space you'll need to store all your belongings when you're moving houses.
Test Applications with the Database: They should also check if the software that uses the database works well with it. It's a bit like making sure your favorite games and apps can still run on your new phone.
Ensure Data Privacy in the Database: Keeping information safe is crucial. Companies need to make sure that sensitive data stays confidential even after the move.
Test the Data Move for Compatibility: It's important to practice moving the data to the new system to make sure it fits and works properly. This is like doing a trial run before the actual move.
By following these steps and using specialized tools designed for database migration, companies can make sure their data makes the transition smoothly and maintains its quality. It's a bit like having a well-organized moving plan and the right equipment to make sure your belongings arrive at your new home in perfect condition.
Application Migration:
Just like changing a database, companies also switch around their applications or systems. This happens when they decide to go with a different provider or platform.
For instance, they might bring in a new system for managing their employees or swap out one customer management system for another.
When a company moves its software, it's really important to make sure that the data can smoothly travel between the old and new applications. Each application might have its own way of organizing data, so it's crucial to pay attention to where the data comes from and how it's set up. After all, how well an application works depends on the quality of the data it uses.
Companies have several ways to carry out these software moves successfully:
They might use something called middleware to bridge any gaps in technology.
They could use scripts to automatically move the data.
They can make sure the data stays safe and accurate by using a special kind of software connection called an API.
They might decide to partner up with a provider who specializes in managing these processes for them. It's like having a helpful expert guide you through the whole moving process.
Cloud Migration:
Cloud migration stands as a revolutionary force in contemporary data management. Its impact is profound, chiefly through scalability, allowing businesses to seamlessly adjust storage capacity as needs evolve. Furthermore, it drastically reduces physical storage requirements, replacing hefty on-premise infrastructure with a virtualized environment, thereby minimizing costs and environmental impact.
Financially, it offers a more efficient model with pay-as-you-go options, eradicating hefty upfront expenses. Security remains paramount, with encryption protocols and advanced firewalls ensuring data remains shielded during migration, guaranteeing both integrity and confidentiality. In sum, cloud migration heralds a transformative paradigm shift, delivering unprecedented flexibility, cost efficiencies, and robust security measures. It solidifies its position as an indispensable facet of modern business operations, essential for thriving in today's digitally-driven landscape.

Considering Data Migration for Your Business?
IntersoftKK is your dedicated partner for seamless data migration and cloud migration services. With a proven track record of excellence, we specialize in ensuring that your valuable data transitions smoothly to its new environment. Whether you're a business seeking to optimize your operations or an individual looking to streamline your personal data, our expert team is committed to delivering tailored solutions.
We understand that the process of migrating data can be complex, which is why we offer comprehensive services designed to meet your unique needs. With IntersoftKK, you can trust that your data will be handled with the utmost care and precision, guaranteeing a hassle-free transition to the cloud or a new system. Experience efficiency, security, and peace of mind with our top-notch data migration and cloud migration services. Partner with us today and unlock the full potential of your data.