Top 10 Mobile App Development Companies in Kolkata
2023-08-11 11:00:36 by Intersoftkk (India)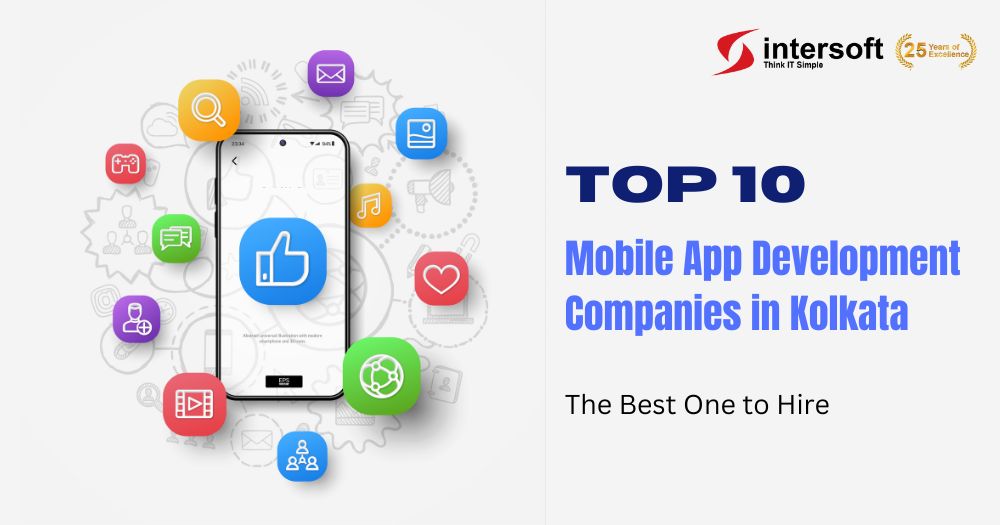 In the bustling city of Kolkata, where tradition and innovation coalesce, a dynamic ecosystem of mobile app development companies has emerged, showcasing the mettle of local tech talent. These companies stand at the crossroads of creativity and technology, crafting solutions that redefine user experiences and business landscapes alike. As the demand for mobile applications skyrockets, choosing the right partner for your app development journey becomes pivotal. In this vibrant Kolkata landscape, we delve into the realm of innovation to unearth the top mobile app development companies in Kolkata that have been orchestrating digital revolutions.
From startups driven by boundless enthusiasm to seasoned firms with a wealth of experience, each of these companies brings a unique blend of skills, expertise, and passion to the table. In this blog, we navigate through their success stories, technological prowess, and client satisfaction, offering you a comprehensive guide to the trailblazers shaping the city's mobile app development narrative. Join us on this exploration of Kolkata's digital realm, where pixels and programming converge to create the next generation of mobile experiences.
The Growing Demand for App Development in Kolkata
The demand for mobile app development in Kolkata has witnessed a remarkable surge in recent times. This trend can be attributed to the city's evolving business landscape and the increasing reliance on technology. As businesses across various sectors recognize the potential of mobile apps to engage customers and streamline operations, the need for skilled app developers has grown substantially.
Kolkata's vibrant pool of tech talent, coupled with its cost-effective environment, has attracted both local startups and established companies to invest in mobile app development. This demand is further fueled by the city's diverse economy, spanning sectors such as e-commerce, healthcare, education, and entertainment, all seeking innovative app solutions.
Moreover, the rise in smartphone penetration and internet connectivity in Kolkata has led to a greater user base, creating a ripe market for mobile apps. As the city continues to embrace digital transformation, the demand for mobile app development is projected to escalate, offering a plethora of opportunities for developers, businesses, and the overall technological ecosystem in Kolkata.
Why Should A Business Have A Mobile App?
In the modern business landscape, a mobile app has evolved from a mere luxury to a strategic necessity. Its significance stems from the fundamental shift in consumer behavior towards mobile devices. Businesses need a mobile app for several compelling reasons, backed by valuable insights and data.
Explosive Mobile Usage:
The world is rapidly going mobile. According to Statista, there were 3.8 billion smartphone users globally in 2021, and this number is projected to reach 4.3 billion by 2023. A business without a mobile app is missing out on a massive potential audience.
Enhanced Customer Engagement:
Mobile apps provide a direct and personalized channel of communication with customers. Apps allow businesses to send tailored notifications, offers, and updates, creating a stronger connection and boosting engagement. Research shows that push notifications can increase user retention by up to 3x.
Convenience and Accessibility:
Mobile apps offer unparalleled convenience. Users can access products, services, and information with a few taps, enhancing user experience. This convenience fosters customer loyalty and encourages repeat business. A Compuware study revealed that 85% of users prefer mobile apps over websites due to better performance and user experience.
Brand Building:
A well-designed mobile app contributes to brand building and recognition. It serves as a digital storefront, showcasing the brand's identity, values, and offerings. Consistent app usage reinforces brand recall, leading to increased trust and customer loyalty.
Data-Driven Insights:
Mobile apps provide valuable data insights. By analyzing user behavior, preferences, and interactions, businesses can make informed decisions to improve their products and services. These insights are pivotal for refining marketing strategies and optimizing user experiences.
Competitive Edge:
In a competitive market, a mobile app can set a business apart. A well-executed app with unique features and functionality can attract users and foster a competitive advantage. The absence of a mobile app might result in potential customers opting for competitors with more convenient options.
Monetization Opportunities:
Mobile apps offer various monetization models, such as in-app purchases, subscriptions, and advertising. These avenues can generate significant revenue streams for businesses, making mobile apps a valuable source of income.
Global Reach:
With the right marketing strategy, a mobile app can transcend geographical boundaries and reach a global audience. This expansion opens doors to new markets and customer segments.
Improved Customer Service:
Mobile apps enable self-service options, reducing the burden on customer support. Features like FAQs, chatbots, and instant messaging enhance customer satisfaction and reduce response times.
Data Security and Privacy:
Contrary to concerns, mobile apps can provide enhanced data security through encryption and authentication measures. Businesses can also ensure compliance with data privacy regulations, bolstering customer trust.
In conclusion, the increasing mobile usage, enhanced engagement, convenience, brand building, data insights, competitive advantage, monetization opportunities, global reach, improved customer service, and data security collectively underline the indispensable need for a mobile app in today's business landscape. Staying ahead demands embracing technology that aligns with evolving customer preferences and behavior.

Top 10 Mobile App Development Companies in Kolkata
Here, in this blog, we help you find the best mobile app development companies in Kolkata in a single list. The companies are as follows –
IntersoftKK

CODEBUZZERS

Indus Net Technologies

InfoSky Solutions

Idiosys India

Unified Infotech

Ventrux Informatics

Webgen Technologies

Capital Numbers

DreamzTech Solutions
IntersoftKK -
IntersoftKK stands out as the premier mobile app development company in Kolkata. We craft seamless and innovative mobile experiences, merging creativity with technology. Our expert team transforms ideas into feature-rich apps for iOS and Android, ensuring stunning designs and intuitive functionality. Elevate your business with our tailored solutions that engage users and drive results.
Address – Salt Lake Electronics Complex, SDF Building, Module #129, Block GP Sector V, Bidhan Nagar, Kolkata, West Bengal 700091
Contact No – 9007332226
Google Rating – 4.9 (⭐⭐⭐⭐⭐)
Other Services Offered -
Web App Development

E-commerce Development

API Development

Blockchain Solutions

UI/UX Design
CODEBUZZERS -
Renowned as a premier IT solutions provider in Kolkata, CODEBUZZERS prioritizes client-centric solutions driven by knowledge, logic, and creativity. They stands out by fostering meaningful client relationships, actively listening to unique business challenges, and offering tailored solutions rather than generic approaches.
Address - Net Guru Building, 5th Floor, E 2-4, Bidhannagar, GP Block, Sector V, Kolkata 700091, West Bengal
Contact No - +91 7890026841
Google Rating - 4.9 (⭐⭐⭐⭐⭐)
Other Services Offered -
Web Design

Web Development

Digital Marketing

E-commerce Development

AI and ChatBots
Indus Net Technologies -
With over 25 years of industry experience, Indus Net Technologies is a leading full-stack digital service company. As a top-notch mobile app development company in Kolkata, they boast a team of skilled and experienced developers specializing in feature-rich app development. Utilizing the latest technologies and best practices, they create high-quality, conversion-optimized mobile apps that deliver exceptional user experiences.
Address – 4th Floor, SDF Building, Saltlake Electronic Complex, Kolkata – 700091, West Bengal, India
Contact No – 033 4046 4422
Google Rating – 4.3 (⭐⭐⭐⭐)
Other Services Offered -
Blockchain Development

Web Development

Digital Marketing

Data Analytics
InfoSky Solutions -
InfoSky Solutions stands out as a swiftly progressing mobile app development company in Kolkata, driven by innovation and client satisfaction. Their dynamic and energetic team of developers is dedicated to creating high-quality, intuitive Android and iPhone mobile applications. With an unwavering commitment to excellence, they ensure seamless user experiences and efficient functionality.
Address - 51/44, Dum Dum Road, Near Dum Dum Phari, Kolkata, India, Pin - 700 074
Contact No - 89617 42465
Google Rating - 4.6 (⭐⭐⭐⭐⭐)
Other Services Offered -
Web Design & Development

E-commerce Development

SEO Services
Idiosys India -
Idiosys Technologies, a premier mobile app development company in Kolkata, excels in robust Android and iOS apps with strong cloud-based backend support. A necessity in today's landscape, they specialize in B2B, B2C, and B2E app solutions, serving enterprises, government, and SMEs. With a diverse portfolio spanning healthcare to entertainment, they deliver high-quality, customer-satisfying products. Committed to excellence, Idiosys Technologies stands as a beacon of top-tier mobile app services.
Address - BN 4, Webel IT Park, Tower - I, Module 905, Salt lake city Sector V, Kolkata 700091
Contact No - +91 8274010916
Google Rating - 4.7 (⭐⭐⭐⭐⭐)
Other Services Offered -
Web Development

Graphic Design

Digital Marketing

Web Hosting
Unified Infotech -
Unified Infotech delivers unparalleled solutions, guiding products toward success. Renowned as a pro-convergence app development company, they adeptly apply agile methodology and offer human-centric mobile app solutions. By integrating cutting-edge technologies like UX, AI, IoT, and smart consultation, they ensure optimal results.
Address - DN 53, Salt Lake City, Sec V, Kol-700091
Contact No - +91 9330901942
Google Rating - 4.3 (⭐⭐⭐⭐)
Other Services Offered -
Ventrux Informatics -
Ventrux Informatics stands at the forefront of excellence as a leading mobile app development company in Kolkata. With a deep commitment to innovation, they craft seamless and engaging mobile applications that cater to diverse client needs. Their comprehensive services encompass not only app development but aalso Website Design and Development, Logo Design, Brochure Design, and Responsive Web Design. Ventrux Informatics is your partner for holistic digital solutions that truly make a difference.
Address - P-111, Block-J,New Alipore Kolkata-700053, West Bengal, India
Contact No - +91 9831501487
Google Rating - 4.6 (⭐⭐⭐⭐⭐)
Other Services Offered -
Web Design

Web Development

Digital Marketing

Logo Design
Webgen Technologies -
As a rapidly emerging iOS and Android application development firm located in Kolkata, India, Webgen Technologies prioritizes delivering top-tier solutions. Their dedicated developers exhibit full ownership in creating practical business applications. The company's emphasis lies in fashioning distinctive and captivating apps that showcase the brand's individuality. Their mobile applications not only boast visually appealing designs but also provide users with immersive experiences.
Address - 507A, 5th Floor, PS Aviator Building, Chinar Park, Biswa Bangla Sarani, Kolkata: 700136
Contact No - +91 3346036949
Google Rating - 4.1 (⭐⭐⭐⭐)
Other Services Offered -
Web Development

Graphic Design

E-commerce Solutions

Digital Marketing
Capital Numbers -
Capital Numbers stands as a distinguished app development company based in Kolkata, India. With a rich legacy of excellence, the company has earned a reputable stature in the industry. Their adept team of developers, designers, and tech experts collaborate seamlessly to craft cutting-edge solutions. Their comprehensive range of services encompasses web and mobile app development, catering to a diverse clientele globally.
Address - Mani Casadona, Unit No 8E4, Action Area #2 F, New Town, Kolkata 700156, West Bengal, India
Contact No - +91-33-6799-2222
Google Rating - 4.6 (⭐⭐⭐⭐⭐)
Other Services Offered -
Web Application Development

Custom Software Development

UI/UX Design

Blockchain Solution

Machine Learning
DreamzTech Solutions -
DreamzTech specializes in crafting mobile applications spanning diverse devices and platforms, catering to both consumer-facing and corporate landscapes. Their team of adept mobile app consultants aids in the creation of business-boosting apps, while experienced top-tier developers, alongside proficient project managers, ensure the delivery of top-notch mobile app development services. Notably, their offerings guarantee a 100% commitment to top quality, all while reducing cost and time to market by an impressive 60%.
Address - AQ-7,Sector V, Salt Lake City, Kolkata-700091, India
Contact No - +91 80089 32964
Google Rating - 4.5 (⭐⭐⭐⭐⭐)
Other Services Offered -
Choose the Top Mobile App Development Company in Kolkata
When in search of the finest mobile app development company in Kolkata, it's crucial to consider several factors. Evaluate the company's experience, expertise, and past project portfolio. Opt for a firm equipped with a proficient team of app developers, offering comprehensive end-to-end services spanning from design to deployment. Thoroughly assess their communication and project management strategies to ensure seamless collaboration. Additionally, take into account their pricing structure and contract terms. A reputable app development company should present competitive pricing and adaptable contract terms aligned with your business's unique requirements.
Intersoftkk ranks among Kolkata's top 10 mobile app development companies, renowned for delivering exceptional Android and iOS app development services. Boasting a decade of industry experience, the company houses a team of adept app developers skilled in crafting bespoke mobile apps tailored to each client's precise demands. Intersoftkk's track record showcases successful mobile applications, consistently earning rave reviews from satisfied clients.