Top Web Development Companies in Kolkata That Are Transforming Online Businesses
2023-11-20 12:21:00 by Intersoftkk (India)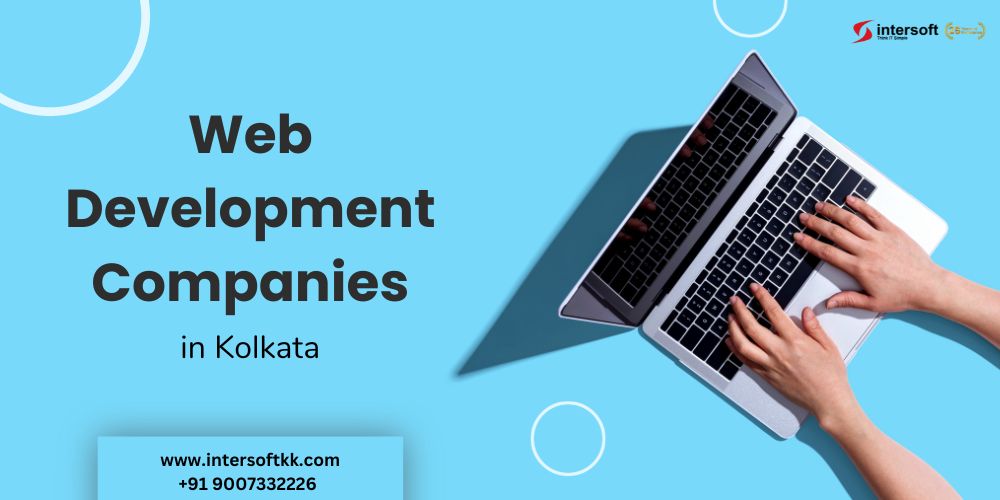 Situated by the Hooghly River, Kolkata, once Calcutta, is a city with a rich history but also moving ahead in the digital world. Beyond its colonial past and the never-ending excitement around the 'City of Joy', Kolkata is becoming a center for technology.
In this lively city, small startups and businesses are looking for web development companies to shape their online presence. These development companies not only help with effective product promotion but also provide various services like making websites look good (UI/UX development), handling the technical parts (frontend/backend solutions), using advanced technology like blockchain, managing content (CMS), connecting different systems (API integration), creating custom software, and designing web apps.
The efforts of these web development companies go beyond just helping individual businesses; they play a crucial role in Kolkata's overall progress globally. As they keep reshaping the digital landscape, Kolkata isn't just a city transitioning from its past; it's a dynamic force, combining history with a modern vision. In this transformation journey, web development becomes a key player, molding Kolkata into a strong contender in the ever-changing worlds of technology and business.
The Rise of the Demand for Web Development in Kolkata
In the vibrant city of Kolkata, there's a noticeable and burgeoning demand for app and web development services, marking a significant shift in the city's digital landscape. Kolkata, with its rich cultural heritage, is swiftly adapting to the digital era, and businesses are increasingly realizing the pivotal role played by app and web development in establishing a robust online presence.
The increasing prevalence of smartphones in Kolkata has prompted a growing need for user-friendly and innovative mobile applications. Simultaneously, the thriving e-commerce sector in the city is witnessing a surge, leading businesses to invest in web development to optimize their digital storefronts and cater to the expanding consumer base.
Moreover, there's a notable trend of businesses in Kolkata embracing advanced technologies like blockchain and artificial intelligence, showcasing a commitment to staying technologically relevant. As app and web development become essential components of Kolkata's evolving business landscape, the trajectory suggests a dynamic journey toward a digitally empowered future. The city's embrace of these technological advancements reflects not just a trend but a fundamental shift in how businesses and consumers interact in the digital age.
Top 8 Web Development Companies in Kolkata
Here is a brief list for our readers who are looking for top web development companies in Kolkata. We have enlisted the top 8 companies in the city who are the industry leaders.
IntersoftKK
-
At IntersoftKK, we take pride in being the leading web development company in Kolkata. Our focus is on crafting seamless and innovative web experiences, seamlessly merging creativity with technology. Our expert team is dedicated to transforming ideas into feature-rich websites for businesses from various industries ensuring not only stunning designs but also intuitive functionality. Choose IntersoftKK to elevate your business with our tailored web development solutions, aimed at engaging users and driving impactful results.
Address – Salt Lake Electronics Complex, SDF Building, Module #129, Block GP Sector V, Bidhan Nagar, Kolkata, West Bengal 700091
Contact No – 9007332226
Google Rating – 4.9 (⭐⭐⭐⭐⭐)
Other Services Offered -
E-commerce Development

API Development

Blockchain Solutions

UI/UX Design
Unified Infotech
-
Unified Infotech, a dynamic team of passionate individuals, transforms client visions into reality, delivering exceptional digital experiences. Specializing in website design, development, mobile apps, and SaaS platforms since 2010, they consistently elevate performance levels. Bridging art, culture, and technology, Unified Infotech's impact extends globally from Kolkata to New York, providing end-to-end solutions for multi-million dollar startups to small and medium enterprises, accelerating efficiency and fostering growth.
Address - DN 53, Salt Lake City, Sec V, Kol-700091
Contact No - +91 9330901942
Rating - 4.1 (⭐⭐⭐⭐)
Other Services Offered -
App Development

Software Development

Web Design
Capital Numbers
-
Situated in Kolkata, India, Capital Numbers emerges as a distinguished web development company with a notable legacy of excellence. The company has garnered a reputable stature in the industry, thanks to its adept team of developers, designers, and tech experts who collaborate seamlessly to craft cutting-edge solutions. Capital Numbers offers a comprehensive range of services, spanning web and mobile app development, catering to a diverse global clientele.
Address - Mani Casadona, Unit No 8E4, Action Area #2 F, New Town, Kolkata 700156, West Bengal, India
Contact No - +91-33-6799-2222
Google Rating - 4.6 (⭐⭐⭐⭐⭐)
Other Services Offered -
Mobile Application Development

Custom Software Development

UI/UX Design

Blockchain Solution

Machine Learning
Indus Net Technologies
-
With an extensive industry presence spanning over 25 years, Indus Net Technologies stands as a premier full-stack digital service company. Recognized as a top-tier web development company in Kolkata, they showcase a team of skilled and experienced developers with expertise in crafting feature-rich websites. Leveraging the latest technologies and industry best practices, they specialize in creating high-quality, conversion-optimized websites that ensure exceptional user experiences.
Address – 4th Floor, SDF Building, Saltlake Electronic Complex, Kolkata – 700091, West Bengal, India
Contact No – 033 4046 4422
Google Rating – 4.3 (⭐⭐⭐⭐)
Other Services Offered -
Blockchain Development

Mobile App Development

Digital Marketing

Data Analytics
Brainium
-
With a strong emphasis on developing client-centric web applications that garner attention and yield tangible business outcomes, the team places a dedicated focus on delivering optimal results. From tackling intricate web application builds to resolving bugs, their experts consistently provide high-quality web apps within specified timelines. Tailoring solutions to meet client needs, they leverage advanced technologies and resources to ensure exceptional web experiences.
Address - Shakti Tower, EN 60, 5th Floor, Sector V, Saltlake, Kolkata 700091
Contact No - 97483 48177
Rating - 4.6 (⭐⭐⭐⭐⭐)
Other Services Offered -
Mobile App Development

Blockchain Development

AR/VR Development

Digital Marketing
WebGuru Infosystems
-
WebGuru Infosystems, an award-winning website development company, specializes in delivering tailored web application development services to startups, SMBs, and large enterprises. Since 2005, they have been at the forefront of driving business transformation, creating quality web applications across diverse domains. Utilizing cutting-edge technology frameworks, APIs, and databases, WebGuru Infosystems excels in crafting futuristic, conversion-driven, and highly optimized solutions, ensuring an excellent user experience for their clients.
Address - Y8, Block - EP, Sector V, Salt Lake, Kolkata - 700091, INDIA
Contact No - +91 8420197208
Rating - 4.5 (⭐⭐⭐⭐⭐)
Other Services Offered -
Design and Branding

Web Design

Mobile App Development

Digital Marketing

Next Screen Infotech
-
As a prominent website development company in India, Next Screen Infotech extends top-notch and cost-effective website development services. Boasting 13+ years of industry experience, they consistently deliver projects within specified timelines. Next Screen Infotech is dedicated to promoting businesses globally, ensuring visibility across various sectors, from restaurants to publishing companies and sweet stores. Their professional services make them a reliable choice for businesses seeking to broaden their audience reach and enhance their online presence.
Address - 210B/1B Kali Charan Ghosh Road, Kolkata - 700 050, West Bengal, India.
Contact No - +91 9874 232 797
Ratings - 4.6 (⭐⭐⭐⭐⭐)
Other Services Offered -
Logo & Graphics Design

Website Design

Digital Marketing
InfoSky Solutions
-
InfoSky Solutions, a leading provider of website development services in Kolkata, excels in crafting solutions, including e-commerce website design. With extensive industry experience and profound knowledge of intricate web applications, InfoSky Solutions is dedicated to delivering professional and technically sound websites. Utilizing the latest software versions and integrating graphics, InfoSky Solutions ensures cutting-edge web design services for their clients.
Address - 51/44, Dum Dum Road, Near Dum Dum Phari, Kolkata 700 074, India,
Contact No - 08961742465
Ratings - 4.7 (⭐⭐⭐⭐⭐)
Other Services Offered -
Web Design

Mobile App Development

Domain & Hosting Services

Search Engine Optimization
Why Do You Need a Web Development Agency?
Engaging a web development company is crucial for various reasons that directly impact the success and functionality of your business's online presence. Here are key reasons why you need a web development company:
Professionalism and Expertise
:
Web development companies comprise skilled professionals with expertise in various programming languages, frameworks, and tools. This proficiency ensures that your website is built with the latest technologies, adhering to industry standards.
Customization
:
Every business has unique requirements. Web development companies work closely with clients to understand their specific needs and create customized solutions. This tailored approach results in a website that aligns precisely with the brand identity and business objectives.
Technical Proficiency
:
The digital landscape is dynamic, with technologies evolving rapidly. Web development companies prioritize continuous learning and stay updated on emerging trends, ensuring that your website remains technically sound and incorporates the latest features.
User Experience (UX)
:
User experience is at the forefront of web development company practices. They employ human-centered design principles to create websites that are intuitive, easy to navigate, and offer a positive experience, ultimately increasing user satisfaction and engagement.
Scalability
:
A scalable website is essential for accommodating business growth. Web development companies design websites with scalability in mind, anticipating future needs and ensuring that the site can seamlessly handle increased traffic and additional functionalities.
Security
:
Cybersecurity is a top priority. Web development companies implement robust security measures, including data encryption, secure authentication, and regular security audits. This safeguards your website and user data from potential threats.
SEO Optimization
:
Web development companies understand the intricacies of search engine optimization (SEO). They implement SEO best practices, such as optimizing site structure, improving page load times, and incorporating relevant keywords, to enhance the website's visibility on search engines.
Save Time and Resources
:
Web development companies operate with efficiency, delivering projects within agreed-upon timelines. This allows businesses to save time and resources that would have been spent on navigating the complexities of web development internally.
Responsive Design
:
With the prevalence of mobile devices, responsive design is imperative. Web development companies ensure that websites are optimized for various devices, guaranteeing a seamless and consistent user experience across desktops, tablets, and smartphones.
Reliability and Support
:
Beyond the initial development, web development companies provide ongoing support and maintenance. This includes regular updates, bug fixes, and technical support, ensuring that your website remains reliable and operational over time.
Engaging a web development company is an investment in the long-term success and sustainability of your online presence, providing a comprehensive range of services that go beyond just building a website.
Choose the No.1 Web Development Company in Kolkata
In the vibrant city of Kolkata, IntersoftKK stands as the epitome of top-notch web development services. As the driving force behind numerous successful online ventures, IntersoftKK brings a wealth of expertise and a commitment to excellence that sets it apart in the competitive digital landscape. With a focus on crafting seamless and innovative web experiences, the dedicated team at IntersoftKK merges creativity with technology, delivering tailored solutions that transcend expectations.
What defines IntersoftKK is not just its technical proficiency but a holistic approach to web development. Every project is a testament to their commitment to professionalism, customization, and user-centric design. By staying at the forefront of industry trends, IntersoftKK ensures that each website is not only visually striking but also technically robust, meeting the evolving needs of businesses.
Whether it's a startup looking to establish its digital footprint or an established enterprise seeking to enhance its online presence, IntersoftKK has consistently proven its ability to deliver. The impact of their services extends beyond the lines of code, reaching into the realms of user satisfaction, brand elevation, and business growth. IntersoftKK is not merely a web development company; it is a partner in the digital journey, transforming visions into compelling online realities with unwavering expertise and innovation. Contact us today!